Most of the mail we get these days are bills. Email has become so prevalent, that we rarely get any written correspondence from anyone, so when something does come in the mail, we usually are surprised. Most of what I get in written correspondence are postcards.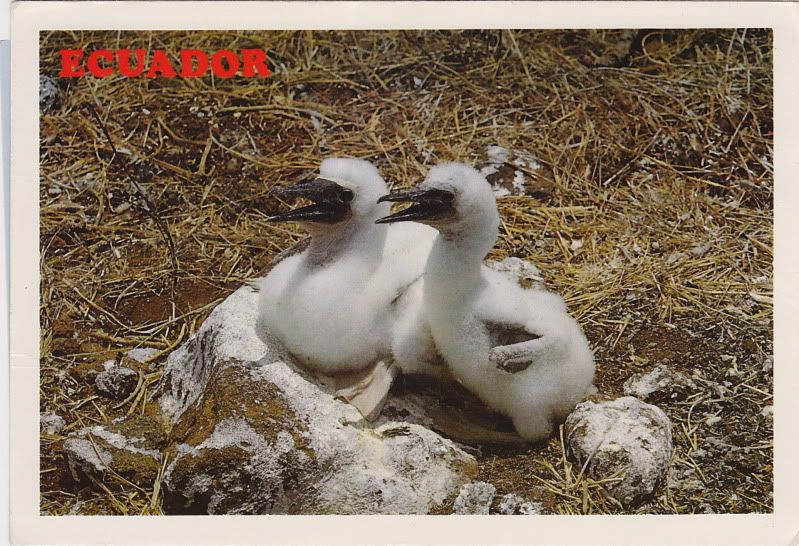 I belong to a website called
Postcrossing
. The premise is pretty simple - send a postcard, receive a postcard from somewhere in the world a little bit later on. The more you send, the more you receive. I've acquired quite a collection of postcards from around the world. One of the postcards I received this summer, didn't come via Postcrossing however. Here's where it gets interesting.
Over two years ago, I wrote on this blog about a student of mine who was taking
a trip of a lifetime
. At that time, he was a part time geocacher, nothing obsessive, but he enjoyed going out and finding a cache from time to time. Most of his caches he logged under his family's account, but he also logged a couple under his own account. I kidded with him before he left that he should find a couple of caches down in Ecuador where he was going. He took me up on that and found a
virtual cache
and a
regular cache
in some of the free time he had available.
At the same time, I also asked if he could send me a postcard from Ecuador. He did, but he did it in a unique way. Apparently, he found a spot down there where you could post cards on a board and hopefully, someone would see the card and bring it closer to its destination. He posted the card at the "Barrel" on Florence Island in the Galapagos on March 7th, 2008 It took over two years, but the postcard arrived by the US mail at the beginning of the summer this year. Every now and then, you get one of those neat surprises in the mail.