A comment from Chaosmanor in my last post got me to thinking. Now, that in itself is sometimes a scary thought, but think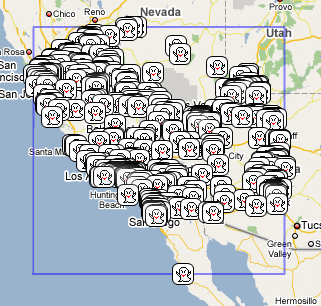 I did and I didn't hurt anyone in the process either. Chaosmanor commented that virtuals might still be around as a cache type had there been some kind of rating system in place when the archiving of virtuals was being discussed. The rating system never came to fruition and the virtuals were archived as a type of cache. However, with the amount of virtuals already out there, were we already saturated with them, or could there be more?

My initial thoughts were there could be more, and then in the same thought, I also pondered, is the virtual in danger of becoming extinct? After a little research, the answer to that one came back a resounding no. The powers that be at Geocaching.com have not decided to archive all of the virtuals like they did the locationless caches a couple of years ago, so the ones that are still out there are still there to find and enjoy. So in reality, it isn't as big a deal as some, perhaps even me, make it out to be. I actually confess that one of the main reasons I would have liked to have seen them continue was purely selfish. I wanted to hide one myself. I have to live with the fact that I missed that particular boat.

The research I conducted was hardly scientific. It was more on the order of looking at different areas and seeing what kinds of virtuals were available in any given area. I ran three maps at Geocaching.com just to see how many virtuals there were in those areas. I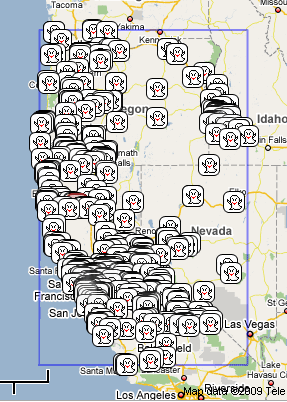 took screen shots of each map to upload to this post. Each map shows 500 virtuals surrounding the center points of each map.

The first map I ran was around my home coordinates. I keep this available more just for interest as opposed to anything else, but because I have it available, it was a good starting point. As you can see from the map, those 500 virtuals stretch into four states and two countries. I know for a fact that I will never find all of those even if I tried. I've already conceded the fact that they aren't going to be all gone ever during my caching career, so I'm not going to worry about it. But then, just for the fun of it, I ran two more maps.

The second map I centered around Redding, CA. Why Redding? Since I live in the southern part of the state about 100 miles from the southern boundary, I decided to pick a point about equal distance from the northern boundary. I've also discussed this with the Tadpole and more than likely, we're going to be camping the next two summers n the northern part of our state, the first year near Redwoods National Park along the coast of California and the second year at Lassen Volcanic National Park, which is east of Redding. Thus, Redding became an obvious second point for a virtual map.

500 virtuals later and you can see quite a bit of overlap between the first two maps. From Redding, the virtuals stretch all the way up to Mt. St. Helens in the north, along the Snake River Valley in the northeast and through most of central Nevada to the east.
Everything from Lancaster in the south up to almost Sacramento in the north is overlap with the other map. Looks like there's plenty to keep any virtual cache hound busy for quite awhile just in the state of California.

I centered the last map around Mesa Verde National Park in the southwest corner of Colorado. We'd talked about going to Mesa Verde a couple of years ago, but certain events conspired against us and we weren't able to make the trip. The Tadpole brought up Mesa Verde again in our discussion about camping, so I'm thinking that in the next couple of years, it would be prudent to take a trip that way. There's not nearly as much overlap with this map and my Southern California map, but enough that I think I have most of the southwest covered with these three maps. The Mesa Verde map stretches into Wyoming and covers most of the four corners states. Utah seems to have the lion's share of virtuals. Perhaps it's because, at least in my opinion, Utah seems to have that "Wow" factor going with regard to scenery. I'm not saying that the other states don't, but Utah is a very pretty place.

After looking at these maps, it's become clear, at least in my mind, that we seem to have enough virtuals to last us a good long while. I
think it would take years, possibly decades for a hardcore cacher to find all of the virtuals shown on those three maps. With that in mind, I guess we just keep virtuals as an option to find if we wish, or not find if we don't.

The Tadpole likes to find virtuals because he finds them educational. He loves learning new things and so the virtuals appeal to him, but I know he also loves finding those containers, especially the large ammo cans. He still gets that excited look on his face when he opens it, almost like it's a Christmas present getting unwrapped for the first time. Even now as a teenager, he still likes looking through all the swag and possibly grabbing some small trinket to take home and savor. I love the last picture, mainly because it reminds me why I continue to geocache. No matter what kind of container we find, or what we learn, we remember that we're having fun doing this silly hobby of ours. We get to spend time with each other which, in the long run, is much more important that worrying about a lot of other things.

Pictures were taken at or near the following geocache:
Old Frat Cache - by jeff jones 86004