Planning has begun for our annual summer camping trip. This year there is a little bit of a twist to the entire trip, which is going to elongate it by about a week. Because of that, this will be the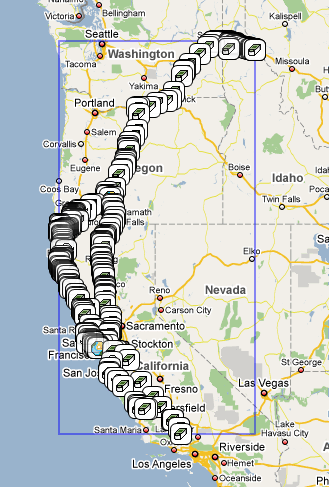 longest camping trip we've ever taken. Originally, the trip was going to be our basic one week trip. I actuallychronicled where we would be staying last year at about this time. Unfortunately, last year, the Tadpole got sick on the first night while camping in Marin County and we had to return home. We now believe that his illness was probably the precursor for his appendicitis which flared up in a major way last month.
After missing out on camping in the Pacific Northwest last year, we just decided that we would re-create our trip this summer. It looked like a pretty good deal, until two weeks ago when my dad asked his fateful question, "Would you like to come up to Idaho and help me at the lake this summer?" My parents are in the process of selling their cabin near Couer d'Alene, Idaho and he needed help moving some furniture. Well, I couldn't refuse that, but we had reservations and other things that were in the way, so this trip has become interesting from a planning standpoint.
Originally, the Tadpole and I had planned on leaving on the 14th of July for our trip, coming home on the 21st. Then we thought that my dad could come along with us. Well, he doesn't really camp anymore due to his age, so he though he might spend the nights we were camping in nearby motels. That might have worked except he wanted to spend more than just a week up at the lake.
The pressing engagement on the far side of the camping trip was my older son's freshman orientation at UC Santa Cruz, scheduled for the 28. No matter what, if my dad came with us, we'd have to turn around about five days after getting up to Idaho.
Well, we've worked out a solution that seems to be ideal for everyone. My dad is taking off sometime next week with my older son. They'll head straight to Idaho. My older son stopped camping about four year ago when he hit high school and has expressed no interest in returning to it. I did what I could in exposing him to it; whether it takes or not is up to him.
Anyway, the two of them, with a possible addition of my nephew will be in Idaho for almost two weeks when the Tadpole and I show up. Our plan now is to start our camping trip at the scheduled time, then instead of heading home on the 20th, head to Idaho instead.
We'll take a day trip through Crater Lake National Park and probably spend the night in Bend, OR.
I have some friends that have offered a warm bed and shower and
I took them up on it.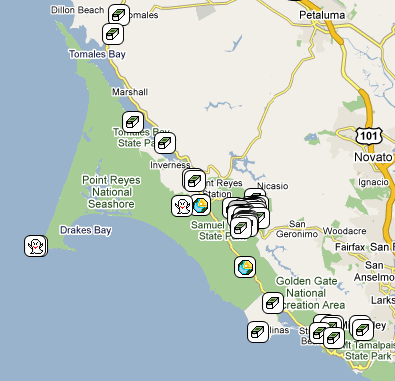 We'll make Idaho on the 21st and have four or five days in which to enjoy the climes there, plus help my dad move what needs to be moved into his truck unless my older son and nephew haven't already done all of the heavy lifting. On the 25th, I'll take the older son and head to Santa Cruz, getting there just in time for his orientation on the 28th, while leaving the Tadpole with my dad. The Tadpole will come home with him later that week. He's very excited about this trip as is everyone else.
The maps show some of the caching possibilities that we have planned over the course of the two weeks. I'm planning on creating a couple of spot
queries around Couer d'Alene, possibly one around Spokane, WA, and definitely one around Crescent City, CA. Last year when I first set this query up, I literally used the geocaching road maps and handpicked caches as they appeared on the map. As long as we're going to be that far from home, I wanted to make sure the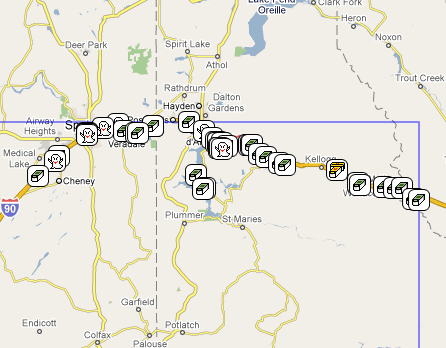 majority of the caches were at least small in size. There aren't many micros in that entire bunch of 390 caches that show up on that map.
Last year, we had ambitions of getting caches in northern California as well as Oregon. This year, the plan is for that, plus more in Oregon, caches also in Washington and Idaho. We even have a day trip planned that will take us east along Interstate 90 over the mountain range into Montana. The rest stops just over the border in Montana, both eastbound and westbound each have caches located there. The cool thing about those rest areas however, is the caches are ammo cans. I'm used to California rest stop caches which are almost always micros, hidden near a phone booth or under a newspaper rack. Two years ago when we went camping in Arizona, we encountered a rest area cache which was an ammo can, so I know
they can be done.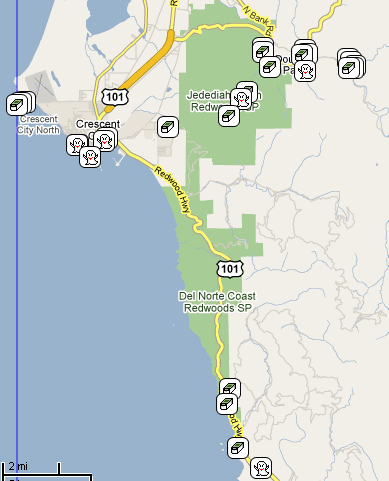 The big difference is most of the rest areas in California don't tend to have a whole lot of tree cover around them in which to hide ammo cans.
At the moment, I have four travel bugs and two geocoins that I've collected for this trip. With two weeks available for
caching, I would like to collect some more before we leave in about 10 days. There are travel bug hotels in the local area, so I'll probably be paying them a visit in the next couple of days. I'm leaning toward mostly travel bugs since it's easier to photograph them in an interesting situation. I'm not quite there with
my promise
to photograph every travel bug that passes through my hands, but I'm working on it.
As always, I'll try to keep updating this, but don't be surprised if there aren't any posts here in late July. There is spotty Internet connection at the cabin in Couer d'Alene, so I'll be lucky if I can do any kind of blogging and in reality, my first order of business would be to make sure that travel bugs get dropped virtually into caches so they can get proper mileage credit. And besides, if I don't blog, that's OK. I'm on vacation.